Washington Summer/Fall Steelhead - Klickitat, Methow and Wenatchee Rivers
---
Fall Steelhead Bed and Breakfast Accomodations on the Methow for Fall Steelheading in Washington State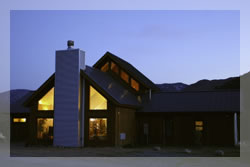 These accommodations are exclusively available to the clients of Brazda's Fly Fishing, a B&B with a view of the Methow on Burma Rd not two minutes from where I stay in my RV. It will be very convenient and cost effective for any of you to stay here. I can simply pick you up in the morning and go have a wonderful day on the Methow River or Wenatchee River chasing the wily steelhead and then bring you back in the evening. Lodging and guided fishing will be $310 per person based on double occupancy this includes the state sales tax.
Take a look at the home and its location in this photogallery. The B and B will accommodate up to 6 anglers and there gear, couples are very much welcome, single anglers are slightly different priced. Your wonderful host will be Phil and Tiloura Lund and of course you can expect me and or one of the guides to hang out at the BBQ on party nights.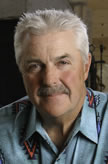 Phil is an accomplished Spey angler and is picking up his fishing guide career after thirty years of operating a home building construction company. Phil guided fishermen on the OP for ten years in the 1970's and is looking forward to stepping back in time and enjoying that passion once again. He is available for Spey casting lessons right from the house.

Other services (besides food) which are complimentary:
Drying waders inside & out on the red room floor, heated concrete, (this was very well received last year)
Refrigeration of fish
Minor wader repair
Fly line repair
Drying wet clothes
Late check out (items stored in red room or living room)
Breakfast at ANY hour
FALL STEELHEAD
The Methow valley is one of ancestral value for me. Both grandparents on my fathers side, were born and raised in the valley, thier grandparents were pioneers of the local region settling in Winthrop and Twisp around the turn of the century. My great-great-grandmother came over on the Oregon trail as a little girl and lived in a log house, heated and cooked over a wood stove into her 90's, and lived until she was 104 years old. My father was born in Twisp in 1945. The seed of outdoor life was definitely planted on the Methow.

My very first introduction to fishing rivers was upon the Methow. Needless to say, I am very pleased that steelhead fishing has been opened up once again there. The very first steelhead I caught on a dry fly came to a large caddis some 18 years ago on the Met above Twisp.

The fishing in the valley is but a hint of a time before dams. Whatever they are doing with the Columbia damns now is working, (draw downs in the spring to flush the smolt is my thought). With huge Chinook spawning throughout the system, large native cutthroat on the prowl, steelhead exist in every likely spot, and huge bull trout lurking, the Methow is returning to the fishery I remember as a young boy. I am sure my grandfather is looking on with a huge smile.

The steelhead of the main stem originally were of the 15lb average, with various smaller subspecies utilizing upper reaches and tributaries. Now with hatchery influence, most of these fish are of the 4-8lb range, the larger native fish are all but extinct.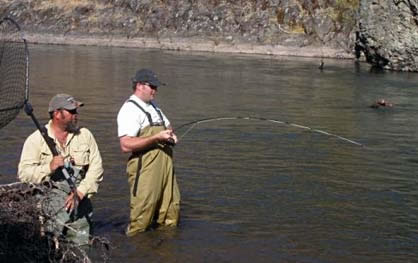 THE KLICKITAT RIVER & WENATCHEE RIVER
Washington State's Klickitat River is well known for its great run of fall steelhead, and this years action has been very good. Just ask major leaguer baseball player and five time All Star Mike Sweeney of the Seattle Mariners. Mike recently signed with the Mariners and we hear tell he's pretty excited to be in the Pacific Northwest, and loves Steelhead Fishing (photo left)).
The Wenatchee River is next in line for a rebirth of steelhead fame, new legislation is in process that is intended to open this river for Steelhead angling in the Fall season. A river of infamous history, the Wenatchee, a tributary to the Columbia River, has every asset desired by the free rising desert steelhead. The Wenatchee River is approximately 2.5 hours from Seattle and the Methow River is four hours. Both are top notch fall steelhead destinations for the accomplished angler. The Wenatchee lends itself well to the swung fly and has some bank access but is best fished using a boat to access the runs, where as the Methow has the best of all worlds starting with some of Washington states best dry fly Ssteelheading water tucked away in 45 miles of prime float and fish water. Accessible by experienced boatmen.
| | |
| --- | --- |
| Drift boat two anglers | $425 |
| Drift boat one angler | call 253-307-3210 for info |
Price includes: lunch, all terminal gear, & shuttles where available. Tax not included.