Washington Fly Fishing Guides - Fall Steelhead Fly Fishing on the Methow River, Wenatchee River and Klickitat River for the 2013 Season
The past years fall run has been spectacular on the Methow and Klickitat Rivers. The incedental Chinook Salmon fishing on the Klickitat River was incredable and is forcasted for an even bigger run.
The upper Columbia strain is known for it's free rising steelhead, a tendency which is definitely a bonus to the fly angler. The Methow river is a dry fly anglers paradise, every inch of nearly every run screams for a waked dry, and the steelhead that reside often oblige. We fish the Methow and Wenatchee river as soon as it opens in October and on ito the freezing weather of November or December.
The Klickitat river will often be fishing well by the second week of July and the Wenatchee and the Methow as soon as it opens in early October. The Klickitat is best known for 5-12 lb fish but boasts steelhead over the sacred 20 pound mark. The klickitat fishes well right up to its closure the last day of November.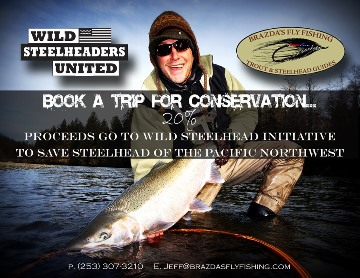 Bookings for Washington State Olympic Peninsula Fly Fishing Guide Services are now being taken for 2014 Olympic Peninsula Wild Steelhead on the Sol-Duc, Hoh, Bogachiel & Queets Rivers
Washington States's Olympic Peninsula guided steelhead season for 2013 was a huge success with big steelhead and lots of exceptional steelhead water. Don't delay in reserving your dates for the upcoming winter steelhead 2014 season! Give Jeff a call at (253) 307-3210 and he'll pencil you in for the 2014 season. This year guests will stay at the BOGY house once again. Check the video below to see these fine accomdations.


Washington trout Fishing on the Yakima, Natches and Methow rivers
Join us this summer trout season for the best of Washington fly fishing for trout. The Yakima boasts the largest trout numbers in the state and the Natches is a fine cutthroat river, the Methow is a jewl of a river with Large cutthroat and rainbows. Any of these are available through our guide services. Season runs May through November with the summer months providing the most diversity.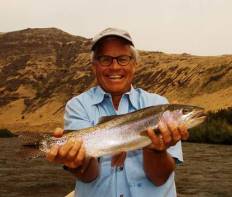 Washington State Trout Tour: Three rivers four days five nights!
Starting in Ellensburg and finishing up on the Methow and fishing the Natches in between. Fully hosted and guided with first class lodging. Simply get yourself to Ellensburg and we will take it from there! $1495 per person double occ tax included.